M, b. 25 June 1915, d. 13 February 1989
Father
George Peter

Klein

1,5,6,16,7,20,17,21,22,4,2 b. 8 Oct 1888, d. 23 May 1956
Mother
Eva

Bierle

1,5,6,23,16,7,20,17,4,2 b. 21 Jul 1893, d. 11 Jan 1967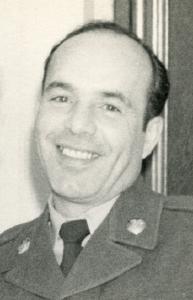 Michael Peter Klein in 1952
     Michael Peter Klein had the privilege of being the first child of George Peter Klein and Eva Bierle to be born in the United States and was there automatically an American citizen. He was born on 25 June 1915 at Arlington Heights, Cook County, Illinois.
1,3,4,5,23,16,24,25,10,12,18
Michael was baptized on 27 June 1915 at Church of St. Mary, Des Plaines, Cook County, Illinois. His godparents were Statfeldt Bierle and his maternal aunt, Theresa Bierle.
3,2
As the son of German speaking immigrants, Michael's first language was German.
6
Michael married
Martha Susan

Weaver
on 28 May 1937 at Chicago. They seem to have separated early in the marriage since he was living as a lodger in the household of Romeo David in 1940. At that time, he was employed as an attendant in the recruiting project.
8,26
Michael and Martha were divorced on 5 November 1945 at Chicago.
19
Michael registered for the draft for World War I on 16 October 1940, while living at Chicago, Cook County, Illinois. On the draft registration, Michael was recorded as being 150 lbs and 5'5", with brown hair and eyes and a dark complexion. He resided at 162 W. Hill Street. Michael was employed by W.P.A. Project #30387 at Association House WPA in Chicago. His next of kin was given as his wife Martha.
27
Before enlisting in the Army, Michael worked as a pressman for Esquire Magazine at Chicago.
10
Michael began military service on 17 September 1948 at Chicago. He served overseas for 2 years, 4 months and 6 days and was awarded the Army of Occupation Medal (Germany). During his stay in Germany, Michael met and fell in love with Elsbeth Maria Lappé, daughter of Friedrich Lappé and Anna Tolksdorf. On his return to the United States, he was stationed at Fort Monmouth in Eatontown, New Jersey for a time.
10,14,15
On 19 February 1952, Michael embarked on the
S.S. Homeland
in New York City bound for Hamburg, Germany. He was traveling on U.S. Army orders from Fitzsimmons Army Hospital in Denver, Colorado and intended to remain in Germany for a period of three months.
11
During his stay in Germany, Michael married
Elsbeth Maria

Lappé
, daughter of
Friedrich

Lappé
and
Anna

Tolksdorf
, on 5 March 1952 at Frankfurt am Main, Germany.
12,28,29,30,31,18
Michael was discharged from military service on 23 June 1952 at Fort Sheridan, Lake County, Illinois, as a Corporal. On his discharge papers, he was described as being 5' 5 1/2" tall and 145 lbs, with black hair and brown eyes. His blood group was AB. His most significant duty assignment was given as Army and Holding Det. at Fitzsimmons Army Hospital at Denver, Colorado.
10,14,32
His address was given as 3340 N. Leavitt Street in Chicago, which was his parent's home. Photographic evidence in 1954 and 1955 suggests that Michael reenlisted soon after, and was stationed at Ft. Monmouth, Eatontown, New Jersey.
10
In 1955, Michael and Elsbeth lived at 2945 N. Racine.
18
Between 1962 and 1965, they lived at 4812 Foster Avenue, Chicago.
33
Their next home, between 1965 and 1977, was at 1804 Almond Court, Mt. Prospect, Cook County, Illinois.
33
He was employed at the Continental Plaza Hotel at Chicago as a bell captain. The hotel is now called The Westin.
33
After moving to California to be near his siblings, Michael and Elsbeth lived at 6201 Amber Lake Ave, San Diego.
34,17
Between 1978 and 1989, Michael was a bell captain at Morrison Hotel at San Diego.
17
Michael died of myocardial infarction due to arteriosclerotic cardiovascular disease and smoking on 13 February 1989 at Alvarado Hospital, San Diego, at age 73 years, 7 months and 19 days. He also suffered from chronic obstructive pulmonary disease.
17,13,35,36
He was buried on 21 February 1989 at Fort Rosecrans National Cemetery.
17,15,37