F, b. 21 March 1909, d. 19 June 1985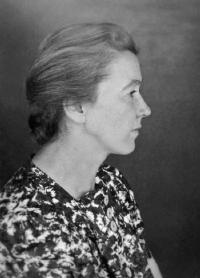 Katharina Elisabeth Forster, 33 Jahre alt in 1942
     Katharina Elisabeth
Forster
, daughter of
Johann Georg

Forster
and
Katharina

Hilpert
, was born on 21 March 1909 at Bubenhausen, Rheinpfalz, Bayern, German Empire.
2,1,4
At the end of World War I, famine prevailed and Käthe and her three siblings picked berries in the forest in order to feed the family.
17
After the war, the family moved to Bielefeld, Nordrhein-Westfalen where her father worked for the Anker-Werke Sewing Machine Company.
18,19
When their father, Johann, was to be transferred to the Anker-Werke sewing machine factory in Czechoslovakia, their mother, Katharina, went on ahead with her children, only to return to Germany six months later, when they were expelled due to the Benesch Regime.
19,18
As a young adult, Käthe's sister Blondel was working as an au pair on a ranch in South West Africa. It was there Blondel married Ernst Ludwig Cramer and lived on the Rogers Ranch.
17
On 17 December 1929, Katharina departed from Hamburg on the ship,
S.S. Wangoni
of the German East Africa Line to Walvis Baai, South West Africa to visit her sister Blondine. Before she left, her friends and family gave her a farewell party.
15,14,20
It was while Käthe was staying with Blondel that she met the widowed rancher,
Erhard Hugo

Zander
. They married in Windhoek on 26 September 1931.
4,21
Käthe began her new life as a newlywed on Monteith Ranch with Erhard and his 11-year-old son, Konrad. Erhard had just finished building the two-story house. He added three more buildings for storage, guest rooms, a workshop and garage, and a toilet quite a distance from the house. In the middle of it all was the cool house, a high-rise water tank, and a 24-foot diameter brick wall water reservoir, about 4-½ feet tall.
Unfortunately, there was an unforeseen problem. After Erhard's first wife died, he hired his ranch hand Kasupi to care for Konrad when he came home on vacations from boarding school four times a year. Käthe did not get along with him and he was subsequently fired. This was hard for Konni to accept, so it put a strain on their relationship.
Living on a cattle ranch was a big change for Käthe, who was used to town life. One day she told Erhard there was no more meat in the cool house. Erhard went out with his rifle and came back with a springbok, which the ranch hands skinned and cleaned. He presented the carcass to Käthe on the kitchen table. "Here is your meat," he said. Käthe had never seen meat as an entire carcass before. Erhard had to teach her how to cut it up into portions.
Erhard and his son Konni had a tame meercat. It was a cute little fellow, but when it smelled meat, it would come running into the kitchen and jump up on Käthe's butt and then up unto her back, over her shoulder, and jump straight down onto the meat. Only her husband or Konni were able to catch him and lock him out so Käthe could prepare dinner without being disturbed.
17
Monteith Ranch was a cattle ranch, but Käthe owned a small herd of Karakul sheep for her own personal income. Karakul sheep are prized for their pelts. The lambs are slaughtered shortly after birth, when they still have a soft and tightly curled pattern of hair.
17
In 1936 Katharina and Erhard traveled to Germany to visit family and friends. After first staying with her parents, they visited her brothers, Hermann and Willi. They traveled a lot with Willi and his wife Erna, who took them to see the Externsteine and the Teutoburger Forest. Together they traveled to Erhard's family in Sarbske, Pomerania. They also attended the Olympics in Berlin.
17
As World War II began, the South African government decided, for reasons of national security, to send most of the German men in South West Africa to detention camps in 1939 and 1940. Their first son, Gernot, was born on 4 March 1941, during the time his father was in the detention camp.
22,23
Without their husbands, the women who lived in town were without support. As a result, they were divided up onto ranches. In this way, Mrs. Sager came to live on Monteith Ranch, with her son, Karsten, who was just a bit older than Gernot.
Not only were all the men sent to detention camps in South Africa, but the authorities confiscated all radios and weapons, and restricted the gasoline purchase to four gallons per month. That meant the women were defenseless, uninformed about world affairs and marooned on the ranches.
Only two years after Erhard was taken to South Africa, during a large thunder storm it rained so much that the earthen dam could not hold the torrent and the water went over the top and cut a deep gorge into the wall. At that time Monteith had only two sources of water, the windmill at Harruparra and the reservoir. The neighbor, old man Rogers, offered to help and he and his ranch hands worked for more than six weeks, using donkeys, oxen, and earth scoops, sometimes in pouring rain, to fill the hole with dirt.
Once a month a police patrol came. The white policeman visited with Käthe and Mrs. Sager to find out if they had any problems with the ranch hands and neighbors. With only women on the ranches, sometimes this was an issue. The black policeman had a completely different purpose. His job was to spy on the ranchers. He wanted to know if there were any political activities, strangers coming and going, secret use of radios, etc.
After one of those visits Käthe was not able to locate her pellet gun. Pellet or air guns were allowed and Käthe used it to shoot pesky birds, or sometimes to chase the goats away from landscaping plants. That day one of the hands told Käthe that he saw the gun leaning against a wall, and since guns are illegal, he hid it under the mattress in the guest room. One never knew where the hands stood during the war, and Käthe must have been relieved that her men seemed to be loyal to her.
Then there was the question about the gasoline, called petrol in Namibia. Before the war, Erhard bought a Plymouth four-door sedan. Those cars barely made 15 mpg, which meant Käthe could drive about 60 miles each month. That was not enough to go to the nearest town, Okahandja, and back. They were allowed to store only a small amount of gasoline. The two women figured out that they had to hide some extra and came up with the idea of digging holes in the garden to hide the 4-gallon cans. This had to be done in secret, because the hands were quizzed by the authorities on a regular basis. Gernot and Karsten knew about the holes, but were told that she wanted to plant some trees.
One story Käthe told repeatedly was the day when little Karsten Sager fell into the four-foot-tall concrete water tank. It could happen easily as the top is about 8-inches wide and kids love to run on top of it around and around. Karsten fell in and Mrs. Sager jumped on the reservoir wall, but since she was wearing a tight skirt, she was not able to get a leg up on the ledge to climb over into the tank. She was stuck. In that moment Käthe came to the rescue and pushed hard on Mrs. Sager until she went over the edge into the water to save her flailing child.
In the 1940s-1960s, the ranches were served by freight contractors. They operated out of Okahandja, which is about 65 miles away from Monteith Ranch. They would stop by every ranch on the road between Okahandja and Hochfeld, about 100 miles, once a week. At Monteith the driver was invited in to have a cup of coffee and some cookies while his assistants would unload merchandise together with the ranch hands. Käthe would hand the driver a shopping list, which he would hand over to the employees in town and they would fill it to be ready the following week. This was not your regular groceries list. It could list many different items, for example: 4 gallons of paraffin, 100 lbs. of corn meal, 40 lbs. of brown sugar, 2 lbs. of white sugar, a 10-foot gate, 4 gallons of gasoline, 25 lbs. of potatoes, get mail and return the library box. The library box was very important. It would contain previously ordered books and on return, a wish list of authors or subjects for the librarian to pick for the next shipment.
Once a month came a traveling salesman with a 4-ton mobile general store. He sold some dry and canned food, but his main business was the small stuff. Yarn, yards of material for the women to sow shirts and dresses, shoes, D-size batteries, and whatever small items are required for the daily life. Käthe had a chance to go to town 8 to 10 times a year, but the wives of the ranch hands were stuck on the ranch, and for them this was the only opportunity to buy items. When he came, the operation on the ranch came to a total standstill. It was like a farmers' market. There were children and people everywhere. The man had two very skilled salesmen. They dealt with the chaos very well and after an hour or so, with all his customers satisfied, he departed, off to the next ranch.
Because of the fuel restrictions, cars were used only for emergencies. The Noeskes were good friends of Käthe, but their ranch was 11 miles away. The only method of transportation was by donkey cart, which was a cumbersome undertaking and did not happen often. The only outside contact was the neighbor Oom Hansi van der Westhuizen. He was an Afrikaaner, so was free to travel. And he had a radio. He grew squash – very tasty squash. When he came by, he first had to show Käthe how to cook squash, but that was not the important part, because he had a radio. He was informed, and he shared whatever he knew, although it was against the law to share information with the enemy!
The other visitor was the fur merchant. He went from ranch to ranch to buy Karakul pelts. Since he was a Jew, although some households tolerated him, he was not welcomed by them. However, Käthe and Mrs. Sager enjoyed his company. He was always invited for dinner and to stay overnight. The fluctuation of the markets was discussed and prices were agreed upon. Then he shared the world news with them. In the beginning, when Hitler advanced fast across Europe, everybody hoped that the war would end soon and the men would come home from South Africa. But the tide changed and their guest told them about setbacks of the war in general, and sadly he had to report the Jewish issue in Germany. His visits were still important and informative, but they put a damper on the moral of Käthe and Mrs. Sager.
After the war ended, her husband Erhard was moved from the Andalusia camp near Kimberley to Baviaanspoort near Rustenburg. When he was released, he was not allowed to leave South Africa and had to stay with local families.
That is when Käthe and her son Gernot took a train to Kroondal in the Union of South Africa to visit her husband. The train ride took three days. Father and son met the first time when Gernot was five years old. Gernot grew up with only two women in the house and the concept of "father" was foreign to him. After a couple of days there, he asked his mother, "Mom, who is this man telling you all the time to do this and that?" They stayed for a couple of weeks and made a few short sightseeing trips before mother and son returned to their ranch in South West Africa.
Mrs. Sager's husband was released a couple of months earlier than Erhard. She and Karsten moved back to Okahandja to continue life as it was before the war.
17
On 22 October 1946, Käthe Zander wrote a letter to the Magistrate in Windhoek to ask for Erhard to be allowed to come home:
Monteith 22.10.46
P. Okahandja
Okakandja

Magistrate

I am asking today for a leave to Monteith for Mr. Erhard Zander. Mr. Zander is out of Baviaanspoort camp and is living with J. B. Pieterse in Winburg, Free State.
Mr. Pieterse was our neighbor at Zwerveling a few years back.
I have been alone now for 6 years and do all the work on the farm myself, and my health is not the best anymore.
Would you please make the attempt to request leave for Mr. E. Zander. I would be very thankful.

The address of Mr. E. Zander
c/o J. B. Pieterse
Sukie - Bus 12
Windburg OVS

Respectfully,
Käthe Zander.10
Käthe wrote many letters to government officials pleading for her husband to be released to come home. Once they permitted a short visit, but he had to return for several more months. But finally in 1947, Erhard was allowed to return home.
Once her husband was back, Käthe had one burning question. During the war, rumors circulated that the black ranch hands would organize to kill the white ranchers. She wanted to know how that would work. One day, after she gathered enough courage, she asked her foreman, Hendrick, about all this:
Käthe: Hendrick, you worked here for many years.
Hendrick: Ja Missis.
Käthe: We worked together well.
Hendrick: Ja Missis.
Käthe: A long time ago I heard that they tried to organize the black people to kill the white people.
Hendrick: Ja Missis.
Käthe: You heard about that?
Hendrick: Ja Missis.
Käthe: What did you think about it?
Hendrick: I don't know, Missis.
Käthe: I mean, would you have been able to kill Mrs. Sager and me?
Hendrick: Oh, NOOO missis, how could we?
Käthe: But then how would this work?
Hendrick: Oh, this was simple, missis. We would walk over to third neighbor, whom we barely know, and kill them. And the ranch hands of Eensgezind would go after the Noeskes, then those from Schweizerland would walk to Kasch and kill them, and the hands of the next ranch, you don't know them and they don't know you, they would kill you.
It was a well thought out plan. Thankfully this dreadful idea was never carried through.
When Erhard finally was released and allowed to return to the ranch, he found the ranch in excellent condition and debt free. The best part of his return though was to be able to hold his son Gernot in his arms. His second son was born after his return.
17
In Erhard's will, dated 4 February 1950, Käthe was listed as an heir. She was also appointed guardian of the children and administrator of this will. Erhard left her his entire estate.
9
It was bad enough that Erhard had not been home for six years. He unfortunately became ill. Another period of hard times began. Gernot went to boarding school in Windhoek. She had a four-year-old who needed attention, and now her husband was ill with gastric cancer. In the beginning of the illness, she took Erhard to Windhoek to the doctors when she had to go to town to drop off Gernot at school. These were the standard eight trips per year, taking Gernot to school every quarter and picking him up again for vacations. But soon Erhard needed surgery and stayed in the Catholic Hospital in Windhoek for weeks. All these trips, in the '48 Chevy sedan, always with her little son at her side, were nerve-wracking. When all medical treatment became in vain, Erhard decided to spend his remaining days at home instead. Käthe got special permission to administer morphine shots to ease her husband's unbearable pain until he died on 11 April 1954 at age 67.
24,25,21
His will was probated in 1954 at Windhoek.
7
Käthe, as executor, presented the final estate accounting to court in September 1954. The value of the ranch Monteith was given as £11,650.
8
In in 1955 when her youngest son was six-years-old, he needed to go to school. The Kasch family on the neighboring ranch hired a teacher for their five children, and invited him to attend. Wulff, their oldest was about the same age. Now Käthe was free to travel to Germany with her sister Blondel to recover from her loss.
26
Gernot had already been at boarding school at the Deutsche Höhere Privatschule in Windhoek since 1948. His younger brother joined him there in 1956. As with Konni, both sons only came home four times a year.
26
Unfortunately, Käthe had a car accident in 1959 and totaled the 1955 Ford custom line sedan. She replaced it with a 1959 Chevy Apache pick-up truck. It made more sense to have a truck on the ranch than a car. After the wreck she never drove in town again. The pick-up truck was driven now and then by her sons.
17
In 1960, the ranch was leased out, and Käthe moved to 128 John Meinert Straße, Windhoek, after working the ranch by herself for six years.
17
She finally had time to indulge in her hobbies of reading, needlework, and swimming. One of her best friends and previous ranch neighbor, Mrs. Noeske, lived on the same street a couple of miles south and they met frequently. Her next-door neighbor, Mrs. Kühhirt, became her good friend and she would come by every morning for tea time at exactly 10 o'clock. She took Käthe shopping and to the library once a week. Mrs. Kühhirt was a blessing for Käthe for many years.
26
Käthe died of uraemia on 19 June 1985 at Windhoek at age 76 years, 2 months and 29 days.
11,1
She was buried at 3 o'clock in the afternoon on 29 June 1985 in the family cemetery on Farm Monteith, Okahandja, Namibia.
1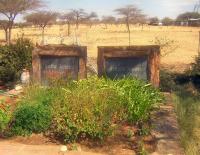 Her estate was inventoried on 27 June 1985.
13