Helene Erika Paula Bachmann1,2,3,4,5,6,7,8
F, b. 20 April 1925, d. 20 July 1983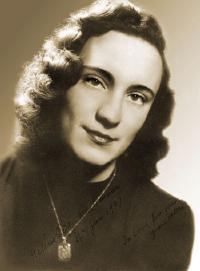 Helene Erika Bachmann, 1947
     Helene Erika Paula
Bachmann
, daughter of
Philipp Jean Konrad

Bachmann
and
Anna Elisabeth

Süssmann
, was born at 3 o'clock in the morning on 20 April 1925 at Wollgraben 7, Frankfurt am Main, Hessen, Germany.
9,2,4,5,11,12,13,14,15
She was baptized on 3 June 1928 at Frankfurt am Main.
4,5
Helene attended the Katharinenschule, which was a girls' school, between 15 April 1931 and 1932.
16,17,15
Helene's parents divorced on 14 July 1932. Both parties were declared guilty. Custody of their son, Willi, was given to their father, Philipp, while custody of Helene was given to their mother, Anna. Willi had already been taken by his father's sister, Magdalena, into their household, because he had been abused by his father. Since Anna suffered from severe chronic kidney disease, probably Alport Syndrome, nearly went blind, and had no income, it was decided that Helene should also live with the Lutz family. A custody battle ensued, because Anna wanted to keep her daughter despite her illness. The court decision was that both children would remain with the Lutz family. Anna died less than a year later, on 21 February 1933.
18,19,15
Helene and her brother,
Wilhelm
, were officially adopted by their uncle and paternal aunt,
Ferdinand
and
Helene
, on 7 December 1934.
9
Between 1935 and 1940, Helene had a 6-minute walk to attend the Viktoria-Schule, which had been founded in 1855 as the City Higher Citizens' School for Boys and Girls (Städtische höhere Bürgerschule für Knaben und Mädchen) and was renamed as a girl's high school (Gymnasium) in 1898. It is now called Bettina-Schule.
16,20
Her school provided many extra-curricular activities. The Viktoria School owned a country retreat in the Taunus Mountains called Haus Tanneck in Eppenhain on Rossertstraße 6. This was always a pleasant weekend outing, only 18 miles from Frankfurt, for children who lived in the big city.
Helen was active in the Rundfunkspielschau 8, an acting group, and was a member of the Vogelsbergerhöhenklub, a hiking club.
21
She was confirmed on 2 April 1939at the Katharinen Kirche in Frankfurt am Main.
5
Between 1940 and 1942, Helene attended the Stätische Handelsschule, a business school at Frankfurt am Main.
16,22
Helene enjoyed traveling all around Germany with her bicycle. In the summer of 1940, she made a trip by bicycle to Köln.
21
In the summer of 1941, Helene visited southern Germany, where she enjoyed Lake Titisee.
21
During the War, it was mandatory for young people to serve in the Reich Labor Service (Reichsarbeitsdienst). Between 9 April 1942 and October 1942, she was placed in Camp 3/23, Lüttmannshagen in Pomerania. Though she had fun with friends in camp, it was a hard job doing manual farm labor. Coming from a well-to-do family, that was something she definitely was not used to and did not enjoy.
23,24
Between 29 October 1942 and 31 March 1943, Helene was conscripted into the War Emergency Service (Kriegshilfsdienst), where she was placed into a dangerous factory job in an ammunition plant for the Navy at Swinemünde, Pommern.
24,25
During the occupation between June 1945 and March 1950, Helene worked as a typist and secretary for the U.S. Army in Frankfurt. This is probably where she met the American soldier who would become her future husband. Many young German girls hoped for an American husband so they could leave Germany and go to a place that hadn't been destroyed by the War.
12
On 7 May 1949, Helene was issued a Police Conduct Certificate in order to marry. She was registered in Frankfurt am Main at Friedrichstraße 32, where she lived with her aunt and uncle.
11
With excitement and hope for the future, Helene entered the United States on 16 August 1950 on American Overseas Airlines from Frankfurt.
8,12
Between October 1950 and December 1951, her first job in the States was as a spreader and floor girl at Kay Dunhill, Inc., a women's dress manufacturer of a tailored classic type, on Branchport Avenue, Long Branch.
12
Between December 1951 and 18 July 1952, Helene was a clerk at Monmouth Memorial Hospital on 3rd and Pavilion Avenue.
12
Just a few weeks after giving birth to a baby girl, Helen became an American citizen on 2 March 1953.
13
Later, Helene got a job as credit manager for Springer-Verlag, a German medical and scientific publisher, in the famous Flatiron Building on 5
th
Avenue in Manhattan. This was a job she truly liked, despite the 2-hour train/subway commute each way. New York City was much more her style than boring Long Branch. One of her duties was to write to the doctors and scientists who had delinquent accounts. She sent quite creative and humorous letters with cute drawings of an accountant at his/her desk, which brought in many late payments. People called her to say they had never received such a wonderful collection letter and they just had to speak with her in person. There were even a few marriage proposals, though certainly in jest. She spent her lunch break window shopping at the 5
th
Avenue shops, and was able to speak German in the office. She missed Germany. She always spent Christmas Eve listening to German Christmas music on "Deutsche Welle" on the short-wave radio and crying.
14
In 1976 at the age of 50, Helen was diagnosed with colorectal cancer and needed immediate surgery in Monmouth Medical Center. Aside from the fact that this was a terrible realization, it was bad timing. She had already purchased a ticket to fly to her daughter's wedding in Windhoek, Southwest Africa. Sadly, she was unable to attend. A year later after she recovered from her ordeal, she did make the trip and enjoyed traveling around Southwest Africa immensely. She was a strong woman. Not many people would undertake such a journey with a colostomy.
1
In 1980, she was at work at Springer-Verlag when she suddenly became very ill. She had to take a taxi all the way back to the emergency department at Monmouth Medical Center in Long Branch for emergency surgery, this time for ovarian cancer.
1
It was discovered that the cancer had spread to her abdominal wall and was inoperable. She did go through the torture of chemotherapy again, but there was no hope of survival. Work was now impossible, but kindly her employer continued to pay her health insurance until the end.
1
Helene died at 2:25 p.m. on 20 July 1983 at Long Branch at age 58 years and 3 months.
14
She was buried at Woodbine Cemetery, Oceanport, New Jersey.
14